TERRO® Fire Ant Bait - 2 lb

In stock
UPC: #070923266685
SCC: #30070923266686
Cannot Ship to:
AK, CT, DE, DC, HI, IN, IA, KS, ME, MD, MA, MI, MN, MO, MT, NH, NJ, NY, ND, OH, RI, SD, VT, WA, WV, WI, PR
Effective against fire ants - kills the queen, kills the mound
Fast-acting, odor-free granules kill ants in about 24 hours
Helps to prevent new mounds for up to 2 months
Convenient shaker bag allows for mound application or broad treatment
Resealable 2 lb shaker bag treats up to 30,000 sq ft
TERRO® Fire Ant Bait
With TERRO® Fire Ant Bait, fire ant mounds will be a thing of the past! These odor-free bait granules can be applied directly to mounds or used as a broad treatment throughout your yard. The convenient shaker bag allows for easy application in either case. The granules are attractive and deadly to imported red fire ants as well as harvester ants. Once applied, ants quickly find the bait and carry it inside the mound to share it with the entire colony, including the queen. This 2 lb bag treats up to 30,000 sq ft, giving you plenty of coverage.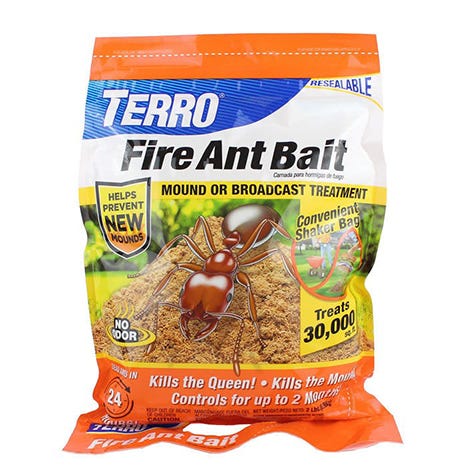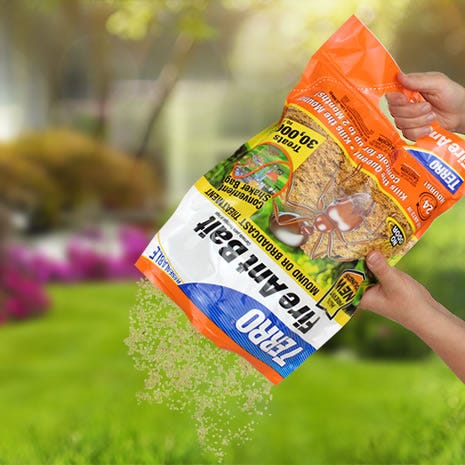 How to Apply
To apply directly to ant mounds, sprinkle the bait evenly over and around mounds in a 4-ft diameter circle. Apply gently to avoid disturbing ants. To use as a broadcast treatment, spread the bait evenly over the infested area with a handheld or ground-driven rotary broadcast spreader. For best results, apply when ants are active – usually in the early morning or late evening when foraging is at its peak. Extremely large mounds may require repeat application.
Fast-Acting and Long-Lasting
When used as a direct mound application, ants will start dying within 24 to 36 hours, with colony destruction happening in 3 to 14 days. Broadcast applications may take longer. By combining mound and broadcast applications, TERRO® Fire Ant Bait granules can control visible mounds and help prevent new mounds from forming. The long-lasting granules provide control for up to 2 months.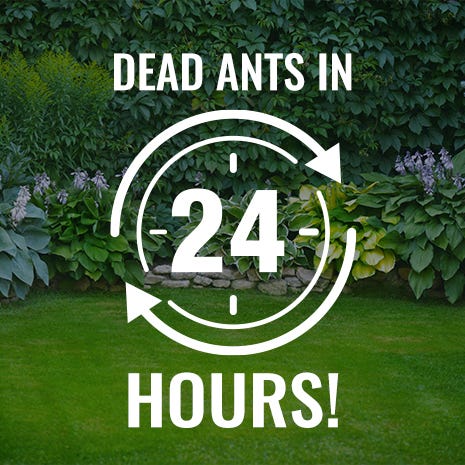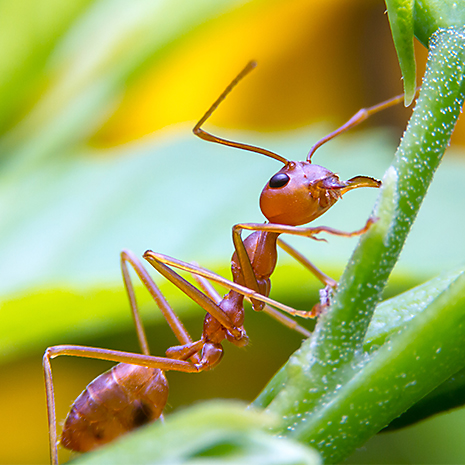 Put A Stop To Fire Ants
Fire ants are nothing short of a nuisance. These ants are aggressive and sting their prey with a generous dose of venom. This venom leads to burning, itching, and discomfort. Some fire ants can build massive colonies as large as 500,000 worker ants per colony. Luckily, when you have fire ants invading your property, you can turn to TERRO® Fire Ant Bait!
TERRO® Fire Ant Bait Product Details
Do you want to know more helpful details about the TERRO® Fire Ant Bait? Take a closer look at the in-depth specifications for this product.
TERRO® Fire Ant Bait
Model #
T708
Includes
2 lb Resealable Shaker Bag of TERRO® Fire Ant Bait
Effective Against
Red Imported Fire Ants and Harvester Ants/td>
TERRO® Fire Ant Bait - 2 lb
Model #
T708
Includes
2 lb Shaker Bag of TERRO® Fire Ant Bait
Active Ingredients
spinosad
Effective Against
Red Imported Fire Ants and Harvester Ants